Eastring Routing
---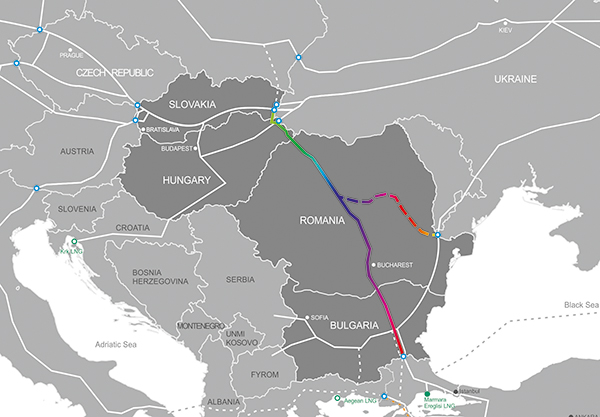 Project is currently considered in more variants, deviating in routing options and level of usage of existing infrastructure.
Eastring will start in existing compressor station in Veľké Kapušany, Slovakia, where should connect with Eustream's existing gas transit assets serving for supplying mainly Western Europe as well as Ukraine in reverse flow.
From there, Eastring will aim to the south border with Hungary, crossing the north-east territory of Hungary in a u-shape towards Romanian borders.
In this initial phase there are two routing options suggested in Romania and Bulgaria:
Routing option A passes storage areas and production facilities of Transylvania and continues to existing interconnection point Isaccea where it connects to the existing transit infrastructure (Western pipeline) which runs through the Romanian-Bulgarian border at Negru Voda and then onwards from north-east to south-east along the existing Bulgarian gas transit assets to tie into Turkish gas transit network at Malkoclar.
Routing option B passes both storage areas and production facilities, Bucharest and continues to Romanian-Bulgarian border and then onwards straight to Turkish border at Malkoclar.
According our first simulations, Eastring will be approximately 846 – 1,029 km kilometres in length, depending of chosen routing variant.
However, the pipeline routing is still not final and it will be further refined in all countries. The data and routing description presented on this website page have been compiled for information purposes only.